Joe Dawson...
Administrator
Member since 2006
Joe Dawson...
Headline on rivals.com article says last year's O-Line recruit Joe Dawson wants to "come back home"…he didnt make grades and went to CC up in the Northeast…trying to get qualified, or may be qualified after last year - not sure…
He's got size at 6-5, 300lbs…BUT do we have room for him on scholarship?
Also, any body have any info on his ability/skill level? i havent found anything of worth…
Joe Dawson...
I remember the press about him last year when he signed the LOI and the disappointment when he couldn't enroll. A couple of other good players couldn't enroll like Corddero Drummond and Markee Drummer from that same recruit class.
Here is the short press release from the archives on the FAU football website:
Joseph Dawson
Freshman
Offensive Lineman
6-5, 300
Hallandale, FL
Chaminade-Madonna High School
High School: Played for Mark Guanodolo at Chaminade-Madonna High School where he earned All-City, All-State and represented the school by playing in the Broward-North/South All-Star Game…two-sport athlete (football and AAU basketball).
We could use some more big bodies!!!!!
I am sure there are scholarships available. Howard made offers to 25 this year and he only signed 18. Howard was quoted as saying he was saving some for the future. It seems the line has been an Achilles heal. I wouldn't be surprised if Howard brings him on board, if his grades are in order.
Dean College roster:
Joe Dawson is #69. Looks to be an inch shorter and 5lbs lighter.
http://www.dean.edu/studentdevelopment/athletics/teams/football/football_roster_2006.doc
---
FAU
-
THE REAL SLEEPING GIANT
Full Flight
Member since 2006
Joe Dawson...
How does it work in JC? If Howard brings him in, will he be eligible this season or is he required to participate 2 years in JC?
---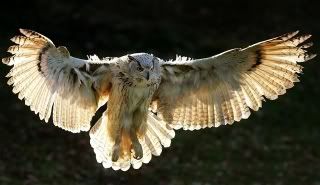 First Flight
Member since 2006
Joe Dawson...
If he's qualified to compete he does'nt have to sit out. You only have to sit out if you are transferring from D-1 schools Thats why players such as Brent Schaeffer who was at TN go to different level NCAA or JUCO schools for one year and then return. He went to JUCO for one year and the next started at Ole Miss.
Administrator
Member since 2006
Joe Dawson...
guess we'll wait and see
Joe Dawson...
I was looking for updates on Joe Dawson and I ran across the original announcement that he would not be enrolling.
Its interesting to look back and see what everyone's thoughts were.
I read Drummond was in a JC in Texas.
http://template.palmbeachpost.com/blogs/content/shared-blogs/palmbeach/faublog/entries/2006/08/07/fau_camp_opens.html
FAU camp opens
By Marcus Nelson | Monday, August 7, 2006, 10:11 PM
The biggest news out of the first day of FAU?s training camp is that starting cornerback Quincy Skinner has been suspended from the team for the season for a violation of team rules, according to FAU coach Howard Schnellenberger.
The suspension is year-long bringing Skinnerís career to an end.
Skinner was a quick and talented cornerback who was always around the ball and wil be missed. However, the Owls are quite deep at defensive back and always have been. FAU defensive backs coach has never been afraid to rotate players and I sometimes would shake my head when a defensive back would have an interception on Saturday and be listed as a backup on Monday because he missed a tackle late in the game. However, over the long haul, it gives more players a chance to get in the game and pays off in the long run.
Schnellenberger said sophomore Corey Small will start at cornerback opposite senior Rickey Bethel, a Santaluces graduate.
FAUís recruiting in Palm Beach County took a hit when the only two local players who signed with the Owls (Palm Beach Lakes RB Cordderro Drummond and Cardinal Newman DL Markee Drummer) didnít report for what Schnellenberger said was for academic reasons. Two other players (Chaminade-Madonna offensive lineman Joe Dawson and Dunnellon running back Rodney Jones) also won?t play for FAU for the same reasons.
Other observations from pre-season training camp.
Wide receiver Chad Wilkes, who will be counted on to fill in for the injured Casey McGahee, made several nice plays including a 50-yard touchdown grab from Sean Clayton during offense vs. defense drills. Before the practice began, Clayton said Wilkes had made great strides since spring ball and was one of the top receivers in the offseason when the quarterbacks and receivers worked out on their own.
Linebacker Brad Gagne, a Palm Beach Gardens graduate, had a nice pick-off of a Clayton pass over the middle.
Quarterback Rusty Smith showed a nice touch when he connected with redshirt freshman receiver Conshario Johnson for a 40-yard touchdown pass during 7-on-7 drills.
Comments
By Florida_Owl
August 8, 2006 11:41 AM | Link to this
You can only speculate what the reson was, however i would put it all on black 27 that it was substance related. Sounds like Crissinger -Hill revisted to me; albeit on the other isde of the ball.
Marcus, was there any indication that any of the freshman could enter school after doing a year of community college, or will they never attend?
The loss of the promise of Drummond will be noticed. Joe dawson should have progressed into a formidable lineman as well, on a much needed improved front.
By Marcus Nelson
August 9, 2006 03:38 PM | Link to this
Florida_Owl,
It?s possible they could show up next season, but usually they will enroll at a junior college and be required to stay two years there before deciding where to go.
By that time FAU may have recruited someone else for that position and filled its need. The player isn?t bound to FAU at that point so the recruitment essentially starts over.
You never say never, but any of the players wearing an FAU uniform is a longshot.
---
FAU
-
THE REAL SLEEPING GIANT
Joe Dawson...
according to a small blurb I read on rivals, Dawson got an offer from a college in FL. Since I am not a subscriber, I couldn't read the rest, only the tease.
Might be FAU, might not. I know he was hoping to come back. Could be Bethune Cookman. Unless Howard has some issues with him, like his ability to stay academically eligible, I don't know why he wouldn't be allowed back as a walk-on.
According to Ted's blog, walk-ons will be showing up soon. It will be interesting to see who shows up. Seem like the past few years we get several transfers from other colleges.
---
FAU
-
THE REAL SLEEPING GIANT