NCAA Football 2006
Wise Owl
Member since 2004
NCAA Football 2006
Just pre-ordered it today from easports.com. Anyone know if our new helmets will be featured or not? I found on the ign.com website that our three 'impact' players that will be used in the new feature in this year's game are Earls, Hughley and Embick.

Member since 2005
NCAA Football 2006
The team is suppossed to have new helmets this season?
So then this is not the correct graphic of this years helmet?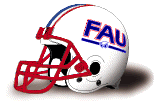 Curious Owl
Member since 2004
NCAA Football 2006
i'm pleased to annouce the FAU uniforms look great, red face mask, numbers on the sleeves (all mistakes from last year)…and thankfully lockhart stadium is in the game!
new helmets or there as well (the FAU 'winged' logo instead of the graphic above), also the new owl logo is in the game.
one bad point is a didn't see a nike logo on the uniform, wasn't sure if that was happening this year or next.
Wise Owl
Member since 2004