Nice story on Pinnick
Full Flight
Member since 2006
Nice story on Pinnick
Looks like MTSU might be growing as a rivalry. If FIU is backing away and claims there is no rivalry between us, there is MTSU. Pinnick claims it is a bigger game to them.
Pinnick settles in at Florida Atlantic
Satellite alumnus flourishes under legendary coach
Josh Pinnick watched the coverage of the NFL Draft this past Saturday and Sunday. Next year, he hopes to watch it with even more interest.
Pinnick, a former Satellite High standout, will play his final season with Florida Atlantic University this fall. The 6-foot-5, 245-pound defensive end has been named to the preliminary watch list for the Rotary Lombardi Award. The award honors college football's best lineman.
"It was kind of shocking (to be put on the list)," said the 21-year-old Pinnick, who graduated from Satellite High in 2003. "It's a great honor and pretty high praise."
But it's just a list. With each season, Pinnick has learned that succeeding at the college level requires more hard work than the year before.
"Spring practice went well and the defense played well in the spring game," said Pinnick, who is a social work major. "We had some sacks and forced some fumbles. It was one more chance to polish my game. I can't believe it's going to be my senior year."
Playing for legendary coach Howard Schnellenberger has been a wonderful experience for Pinnick, who earned a spot in the starting lineup during his redshirt freshman season and has been a starter ever since.
"He's extremely demanding and very old school," Pinnick said. "We practice four days a week in pads with full contact. We take a lot of punishment, but it helps us in the fourth quarter of games. Coach keeps teams grounded and disciplined."
Schnellenberger guided the University of Miami to its first national title in 1983 and he later built the University of Louisville into a powerhouse. Prior to that, Schnellenberger was the head coach of the Baltimore Colts in the early 1970s and an assistant coach with the Miami Dolphins and Los Angeles Rams. He also was an assistant coach under Bear Bryant at Alabama.
"Coach drives his golf cart around and coaches everyone," Pinnick said. "He doesn't specialize. When he comes over, everyone listens. His word is the final say."
Schnellenberger wants Pinnick to assume the role of being one of his senior leaders. Pinnick vows to be ready for the task.
"In the past, I was just a wild guy who played tackle football," Pinnick said. "As I became older, the game became more of a craft. There's more block reaction and I watch plays develop and get a feel for being in the right position. The game has become more and more instinctive and reflexive. After 30 something starts, there's no shock. There's expectation – I know what's coming."
Pinnick plans to spend most of the summer training at the school's campus in Boca Raton. He hopes to put on a few pounds but, even though he has a prodigious appetite, it's not an easy task.
"My dad's (Paul) a lean guy (at 6-foot-10), so it's been a challenge with my body type to put on weight," said Pinnick, who enjoys chowing down a chicken gringo sandwich at DaKine Diego's in Satellite Beach whenever he is visiting his parents. "If I pack on the pounds, I want to make sure it's good weight done with a healthy approach. I don't want garbage in and garbage out. There's got to be a fine line."
Florida Atlantic played one of the more difficult schedules in the country last year. The upcoming season won't be any different. In addition to the Sun Belt Conference schedule, the Owls will face Florida, Oklahoma State, South Florida, Kentucky and Minnesota.
"Florida has the biggest circle on my calendar," said Pinnick about the Nov. 17 date in Gainesville. "It's a game I can't wait for. It'll be the culmination of everything as far as (college) football is concerned. I watched the NFL Draft over the weekend and I was excited for Reggie (Nelson) and Joe (Cohen). That brought back memories of the lopsided games against Palm Bay. It's exciting to know that people out of Brevard (County) can be drafted by the NFL. But it's ironic that I'll be playing against Florida and they won't be there. I wish they still were there."
Nelson was drafted by the Jacksonville Jaguars and Cohen was selected by the San Francisco 49ers.
Since Florida Atlantic and Florida International started their football programs at about the same time, the two schools share a natural geographical and conference rivalry. But in the conference, Pinnick isn't afraid to show his disdain for Middle Tennessee State, who the Owls will host in their season opener on Sept. 1.
"FIU is our rival, but the bigger game is Middle Tennessee," Pinnick said. "I despise them and I won't be shy about that. We've played four years in a row and it's 2-2. There's some bad blood between us, and that's to be expected when you play the same team four years in a row. I'm familiar with all those guys on the offensive line."
There's no doubt Pinnick will be ready for that season opener.
"There's something about the game of football where it's a place to go and get away from being yourself," Pinnick said. "You can become your own superhero. Football becomes an outlet for all things. There's no other way to express it – it's showtime."
---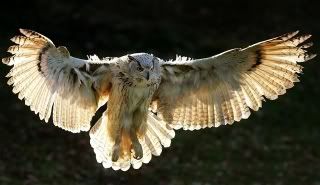 Contributor
Member since 2004
Nice story on Pinnick
Pinnick could very well be the first OWL taken in the NFL draft. If he adds a few more pounds (up to 260 or so) he would have great prototypical size and he seems to have the ability and drive.
GO OWLS!!!
---
2017 Conference USA Champions