Ted's 2008 prediction
Full Flight
Member since 2006
Ted's 2008 prediction
This kinda give me tingly feelings when I read this. things look good for 2008.
I know I know I know
we haven't even played 2007 yet but it is still nice to read things like this.
Ted talks about a CUSA team scheduled in 2008. A MAC team in the future would be good also.
http://weblogs.sun-sentinel.com/sports/college/fau/blog/
2008: Too tough?
While negotiations continue, FAU's non-conference sked for 2008 is about set. Minnesota and Michigan State are done deals. A contract with Texas has yet to be signed, but what is holding that up is discussions about a mult-year deal.
The final game is rumored to be UAB, a low-level Conference USA team. This is also expected to be a mutli-year deal.
I like UAB, or any other mid to low-level team from a mid to low-level conference. That is a winnable game and the kind Belt teams need to be playing.
I like Minnesota and Michigan State, because next year FAU will have a legitimate chance of winning both those.
So far this fits with The Voice's model of scheduling. Where you have your confernce games, then schedule a couple teams of equal skill, and two that are somewhat reaches.
And that brings us to Texas. I don't like taking on the Longhorns, not in 2008.
Yeah, its exposure, its a trip to one of the best places to play a game. BUT…
REMEMBER BOISE
I am going to go back out on that limb and say this: 2008 is FAU's Boise State year.
Boise ran the table in 2007, got into a big BCS game and beat Oklahoma in that memorable Fiesta Bowl.
You think the Owls are good this year, wait unit next year. On offense they lose one player. On defense four. And there won't be a dropoff in those spots. The offense will be running this team, and they will be good.
2008 will be the year The Voice has been building toward, when he will finally have a team that can butt heads with the big boys and have a chance of still standing after the encounter. But Texas is just too big of a boy. Schedule Mississippi State or Vanderbilt, someone from a big conference the Owls can beat.
I am serious when I say running the Sun Belt in '08 is a good possibility. That is 8-0 (since WKU will be a member, meaning nine Belt teams and and eight game sked, four home, four away). Winnable game against UAB. 9-0. Tough but winnable games against Minn and MS, 11-0. Texas is not winnable. 11-1. No big BCS game.
The only good thing is that Texas will be the season opener. If the Longhorns are good and stay high in the rankings and FAU wins the rest of its games, by then that loss may not matter.
Sure, a lot of dreaming and a lot has to go right, but we are getting WAY ahead of ourselves. Or at least I am.
Back to this season and finding a way to beat the Blue Raiders.
Later…
---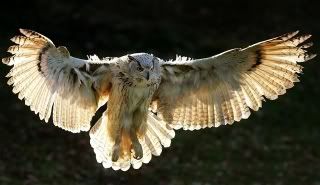 Contributor
Member since 2004
Ted's 2008 prediction
Wow, Ted has some high hopes. I think FAU is in a position to really improve by leaps and bounds over the next 2-3 years, but I think having a "Boise State" kind of year is still far away.
If FAU gets to the level of play that USF has shown the past couple of years that will be a big step up. Given the difference between the BIG EAST and the SBC that could mean that FAU will roll through the SBC. A non-conf win or two could have FAU with 9 or 10 wins in the near future. I like the chances of that happening, but a "Boise State" season is a real reach.
Here is what I see for FAU: 2007 (7-5) 2008 (8-4 or 9-3 it depends on the non-conf schedule)
GO OWLS!!!
---
2017 Conference USA Champions
Donor
Member since 2005
Ted's 2008 prediction
I really would like to beat Minnesota and Ok State this year. USF, Kentucky and UF will all be top 25 teams at years end. I could swallow losign to Troy, this is really their year.
We should win every other belt game.
A four loss season would be great.
Contributor
Member since 2004
Ted's 2008 prediction
I think Minnesota is going to be better than most people think. Oklahoma State should be very solid. I actually think FAU can play with USF. I am not counting on a non-conf. win this year, but I would love to see one.
GO OWLS!!!
---
2017 Conference USA Champions
Wise Owl
Member since 2004
Ted's 2008 prediction
I think we have a shot at the Gophers and Ok. St.. I'm leaning like exit is on the USF they could be tough this year.
Administrator
Member since 2004
Ted's 2008 prediction
Playing UAB would be a great measuring stick for us. It should be our first home and home series (not two for one).
Bytor
Member since 2004
Ted's 2008 prediction
With the Ok. St. game it all depends how they do against Georgia the week before and if tehy let down their gaurds a bit against, it could be enough if we play solid ball.
How we start the Minn. game will be very important, if we start strong and pressure the Gophers into making mistake early, then you bet will have a very good chances to pulling an upset.
USF will be tough.