Humours article in OSU news paper from FAU alumnus
Full Flight
Member since 2006
Humours article in OSU news paper from FAU alumnus
http://media.www.thelantern.com/media/storage/paper333/news/2007/01/03/Opinion/Gator.Loyalty.Remains-2600095.shtml?sourc
edomain=www.thelantern.com&MIIHost=media.collegepublisher.co
m
Home > Opinion
Gator loyalty remains
Seth Fishman
Issue date: 1/3/07 Section: Opinion
Before leaving my native southern Florida, friends and family asked what I needed most in Ohio. Besides blank checks and copious amounts of cash, I said sweatshirts. I never thought my wardrobe would be adversely affected by the announcement of the National Championship game between Ohio State and Florida.
So I got a pair (I had not owned any prior) from my alma maters - University of Florida and
Florida Atlantic University
. When I finally wore them this past fall, they were nothing more than conversation pieces of why I would leave the Sunshine State for Ohio, other jokes about my personal denial of the upcoming winter and how UF gloves and snow hats are not big sellers in Palm Beach.
I've never been in the position to make a choice between my allegiances at UF and FAU. In the football world, FAU is about as big of a powerhouse as the Detroit Lions. In fact, the two have never even faced each other and I will likely be retired in Palm Beach before those two ever meet in a bowl game.
However, if they ever did, I would go with FAU since I was there for four years while only two were spent in Gainesville. Yes, that game would be as close as the governor race here in Ohio this past November, but FAU trumps UF in such a situation. That defines loyalty despite knowing the likely outcome.
As I was heading back to Florida to regain my tan, I had an unusual experience which foreshadowed things to come. I was walking with a friend to his car when a woman stopped at a traffic light rolled down her truck window and shouted at us. I thought maybe he knew her. Instead, we determined she was yelling at ME because I was wearing a UF sweatshirt. It was something along the lines of "We are going to kick your (insert expletive)!" I thought Michigan was the only arch nemesis, but apparently it is anyone who happens to play OSU in football.
My reception at the Columbus airport was another razzing from the Delta counter crew who also thought I was crazy to wear such a thing. With my limited cold weather wardrobe, I decided to switch over to my FAU sweatshirt when I returned to Columbus. Though I got less attention, after explaining the location of FAU, I was told "Well, your state sucks!" Whatever happened to Midwestern hospitality? I quickly pointed out that a large portion of Ohio retires to Florida anyway and half of OSU will be there for Spring Break.
I still get asked daily for whom I am rooting and while it pains me to be torn between the two schools, I know where my loyalties lie. Sure, I am a Florida "Tory" perhaps. Non-Ohio grad students rarely come here ready to surrender their loyalties. Over time, that may change since I will be at OSU longer than I was at UF. Maybe OSU and UF will have a bowl game rematch in 2010? After (hopefully) completing my doctorate, I know I will be rooting for the Buckeyes. Until then, "it is great to be a Florida Gator."
Seth Fishman is a graduate student in education and is accepting all OSU apparel donations in size small. He can be kindly razzed at
[email protected]
---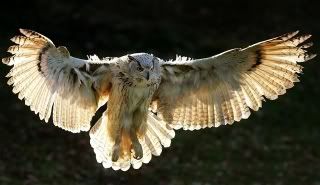 Administrator
Member since 2006
Humours article in OSU news paper from FAU alumnus
i went to school at FAU with Seth…he's a good guy…always positive, big athletic supporter…
good article…
Administrator
Member since 2004
Humours article in OSU news paper from FAU alumnus
Thanks for posting the editorial, I enjoyed reading it. There's many of us who have degrees from both FAU and UF. Like Seth, since I've spent much more time at FAU, I feel much closer to it. Still, there's no question who I'll be rooting for tomorrow.
There's also no question who I'll be rooting for when we play (National Champions ;D ) UF next season… GO OWLS!
Seth mentions his FAU sweatshirt. When I'm traveling I sometimes wear an FAU hat or shirt. I've run into FAU graduates randomly all over the world… in Canada, England, and even Mexico! My favorite was when I saw someone wearing a shirt that said "my kids and my money go to FAU".
Wise Owl
Member since 2006
Humours article in OSU news paper from FAU alumnus
Not sure if anyone still watches MTV Real World…but the new season had the girl Colee wearing what appeared to be an FAU shirt (almost 100% postive). Between the above article and MTV, looks like we are making it big time!!!
Contributor
Member since 2003
Humours article in OSU news paper from FAU alumnus
Speaking of FAU logo sightings …
On the Animal Planet TV show,
Miami Animal Police
(which appears to take place as much in Broward and Palm Beach counties as Miami-Dade) the other night, a scene of a bunch of families watching a gator capture in Broward clearly showed a middle-aged man wearing an FAU hat.
On Sunday night, Any Rooney's
60 Minutes
piece on sports mascots lamented the lack of cows and other not-so-sexy animals as mascots. But he said there are plenty of owls, as the TV screen showed a large FAU (new) logo, along with similar, smaller logos of Rice, Temple and perhaps and one other team.
Spread The Wings
Member since 2003
Humours article in OSU news paper from FAU alumnus
Full Flight
Member since 2006
Humours article in OSU news paper from FAU alumnus
Good find. You gotta be watching carefully though or you'll miss it.
---