The official "Who has the worst mascot?" thread...
Administrator
Member since 2006
The official "Who has the worst mascot?" thread...
Lm77 said

… although it's often considered one of the best college mascots.
Maybe…if you go by this list:
Americas Best Online
But they didnt crack the bigs:
1. 
Fox's List
2. 
ESPN's Voting List
And, they did make two WORST lists - Tops 10 in each! 10th, and 3rd!
DISCLAIMER:
The first one has language i dont use, or approve of using really, but it is funny:
1. 
ERROR: A link was posted here (url) but it appears to be a broken link.
Top 25 Worst Mascots
2. 
Armchair GM
Some totally random humor against Michigan:
Why Michigan has no mascot
And, drumroll……."The Stanford Tree":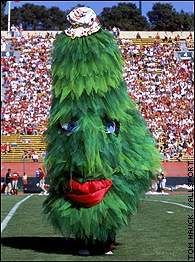 WHAAA??
Contributor
Member since 2004
Re: The official "Who has the worst mascot?" thread...
Having the Southern Illinois Salukis on the worst list is a joke. Brown Dog and Gray Dog are great mascots.
GO OWLS!!!
---
You can run kitties, but you can't hide!!!