While we await Saturday's sneak preview of the 2012 Owls, a couple former Owls have been making some noise in the NFL.
WR Lestar Jean of the Texans and RB Alfred Morris of the Redskins have attracted notice with solid performances in early exhibition games.
What links these two is this – they were the only offensive weapons on lousy offensive teams.
This made the numbers they put up even more impressive, since the opposing Ds would double and triple team them.
Jean was the only deep threat the Owls had, and yet he always found ways to get open and hang onto the ball when it came his way.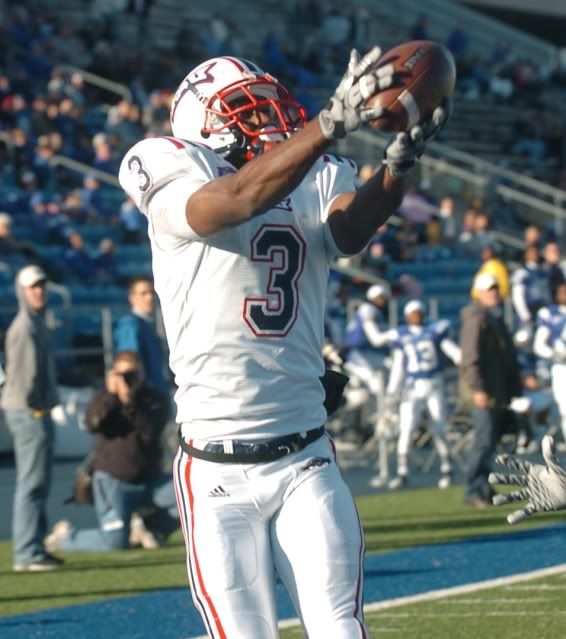 Jean making TD catch against MTSU (Ted Hutton photo)
And every defender knew that Morris was the only option for the Owls last season, yet he plowed over them.
Morris never blamed the lack of blocking. In fact, he found a positive. A quick recap:
In 2009, an experienced line helped Morris gain 1,392 yards.
In 2010, with a woeful line in front of him, Morris gained 928. Rather than cite the inexperience of the line, Morris said that maybe running had been too easy in 2009 and that now his challenge was to work harder and do a better job of taking advantage of the fewer opportunities he had of daylight.
In 2011, when the line was only a tad better, but the passing game horrible and Morris was literally the only person capable of making positive yardage, he gained 1,186, which was remarkable considering what he was up against.
Like Morris, in 2010 Jean had to work harder to create his own opportunities. The unsung hero was QB Jeff VanCamp, who rarely had time to plant his feet before the opposing linemen were in his face.
VanCamp and Jean combined for 988 yards and 8 touchdowns, which may not sound like much, but, like Morris's yardage last season, was eye-popping considering the situation.
Jean was an undrafted free agent, but I think he will stick in the NFL. He does not have blazing speed, but has what the NFL cherishes – the ability to get open despite tight coverage and hang onto the ball when it comes his way. He is one of those possession receivers that will keep drives alive with that big third-down catch in traffic.
I also like Morris's chances. Again, he does not have blazing speed, but he did learn how to run during those two horrid seasons, and that will help him as he learns how to make ground against NFL defenses.
I was surprised that VanCamp didn't get more looks, given what he accomplished with that woeful line.
And QB Rusty Smith is still with the Titans, and TE Rob Housler with the Cardinals. Who knows, maybe all four will be on the roster when their teams break camp.
Later…